Racing
Concise 10 Breaks Record
The circumnavigation classic race had a new development around the Isle of Wight. There was a sailing record set by a Trimaran sailing vessel. This record was set by a MOD 70 class vessel by an unexpected turn of events on Saturday.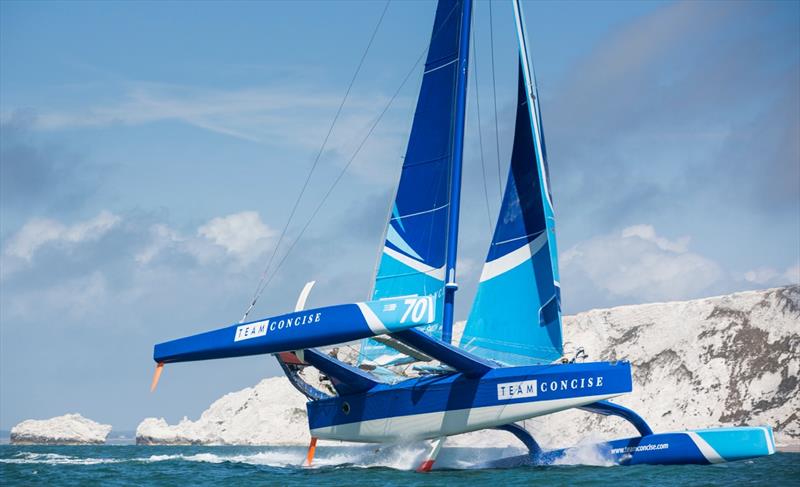 The Trimaran Concise 10 was able to overturn the time record set by a boat in the same category called Phaedo 3. Concise 10 was found to hit 44 knots or 51 mph. This was near St Catherine's Point, which was halfway to completing the course. It was on the way to reaching the finishing line and was able to set this new record.
The day was an overcast one which was not the best conditions for a record breaking sail. There was a morning breeze that only had the strength as in early teens which was broken down by intermittent rain. Concise 10 however, set a cracking pace in the race that was set around the island from Cowes, with the crew of media team Plainsailing Yacht website struggling to keep up!
Concise 10 was able to make solid progress as the boat moved westwards and then moved rapidly towards the south. At such a time the winds were favorable. That allowed the super fast vessel to be able to reach in a faster timeline. The boat was maneuvered expertly by Skipper Ned Collier Wakefield along with his crew and the line was crossed in 2 hours 22 minutes 23 seconds in total. As a result the record of Phaedo 3 was beaten by a minute exactly.
The race was a single day mass participation sailing event, one of the fourth largest in the UK. There were several first timers that included both amateurs as well as professionals and families who competed in the race. There were also sailors of the America's cup who competed in this sailing event. The race of 50 nautical miles westward started and finished in Cowes and features a central event in British racing.